AQUA BLU
Longueur : 60,35 m - 18 cabines
Chantier : Brooke Marine
Année de construction : 1968
Année de rénovation : 2019
À partir de
264 000 € / semaine
Jusqu'à
293 000 € / semaine
À partir de
278,884$ / semaine
Jusqu'à
309,519$ / semaine
Description
Presenting a brand-new yachting experience in the pristine East Indonesian Archipelago, AQUA BLU is a long-range explorer yacht offering all-inclusive charters sailing the region's most prized destinations, including Komodo National Park, Spice Islands, and Raja Ampat on unforgettable 7 and 12 night itineraries.

With a grand legacy as the former British Naval Explorer HMS Beagle and later as the private yacht of a European aristocratic family, AQUA BLU is a compelling maritime statement. A 2019 refurbishment overseen by Dutch yacht design maestro Cor D. Rover brings the vessel to world-class cruising specifications. Guests can expect to embrace a distinguished sense of history and seafaring evolution when they set foot on this one-of-a-kind ship.

Faster, further, greater safety and comfort — AQUA BLU's naval pedigree makes it the perfect vessel to navigate East Indonesia's vast seas. Having attained the highest international classifications (RINA, SOLAS, ISM) in safety, the vessel is additionally equipped with Quantum Zero Speed stabilizers for optimal comfort at rest or while sailing.

AQUA BLU will set sail on its inaugural voyage on 16 November 2019. Be among the first to cruise East Indonesia like no ship has ever done before.

ACCOMMODATION
Each of the 15 individually-designed suites aboard the AQUA BLU is an oasis on the vast East Indonesian seas. Conceptualized with modern luxury and ultimate comfort in mind by renowned Dutch yacht designer Cor D. Rover, these private sanctuaries lend a luxurious sense of home to every journey on board.

AQUA BLU's suites are classified in 3 categories:
Cat I: 5 suites on the Bridge Deck (2 suites) and Forecastle Deck (3 suites)
Cat II: 7 suites on the Main Deck (4) and Lower Deck (3)
Cat III: 3 suites on the Main Deck (1) and Lower Deck (2)

All suites are air-conditioned and feature en suite bathrooms with spacious walk-in rainshowers, and electronic safes.

SOCIAL AREAS & AMENITIES
Sun Deck
With an elevated vantage point, the Sun Deck offers spectacular 360-degree views wherever you sail in the picturesque East Indonesia region. Equipped with a barbecue, outdoor seating with umbrellas and wraparound lounge sofas, this is the perfect location for sunrise yoga, evening grill party, or night stargazing.

Jacuzzi and Lounge Daybeds
Few things are more enjoyable in the tropics than cooling off in AQUA BLU's jacuzzi, which is flanked by plush daybeds for sunbathing and perhaps even a snooze after a diving or snorkeling session!

Spa and Gym
Make wellness a priority at AQUA BLU's onboard spa and gym. Guests can indulge in Balinese massage and aromatherapy with the on board therapist or work up a sweat in the gym.

Sky Lounge Bar
Guests can exchange the days tales of marine sightings over cocktail at the stylish Sky Lounge Bar, while looking out to gorgeous views of the surrounding seas.

Dining Room
Experience refined Indonesian-inspired cuisine on board AQUA BLU in an inviting and stylishly-appointed dining room on the Main Deck.

Watersports equipment
AQUA BLU carries a comprehensive suite of top-of-the-line, non-motorised watersports equipment, including diving and snorkeling gear, kayaks, and stand-up paddleboards.

If you wish to charter AQUA BLU, please get in touch with your CSO Yachts broker. Alternatively, please send an email to info@csoyachts.com and one of our brokers will be in touch to assist with your enquiry.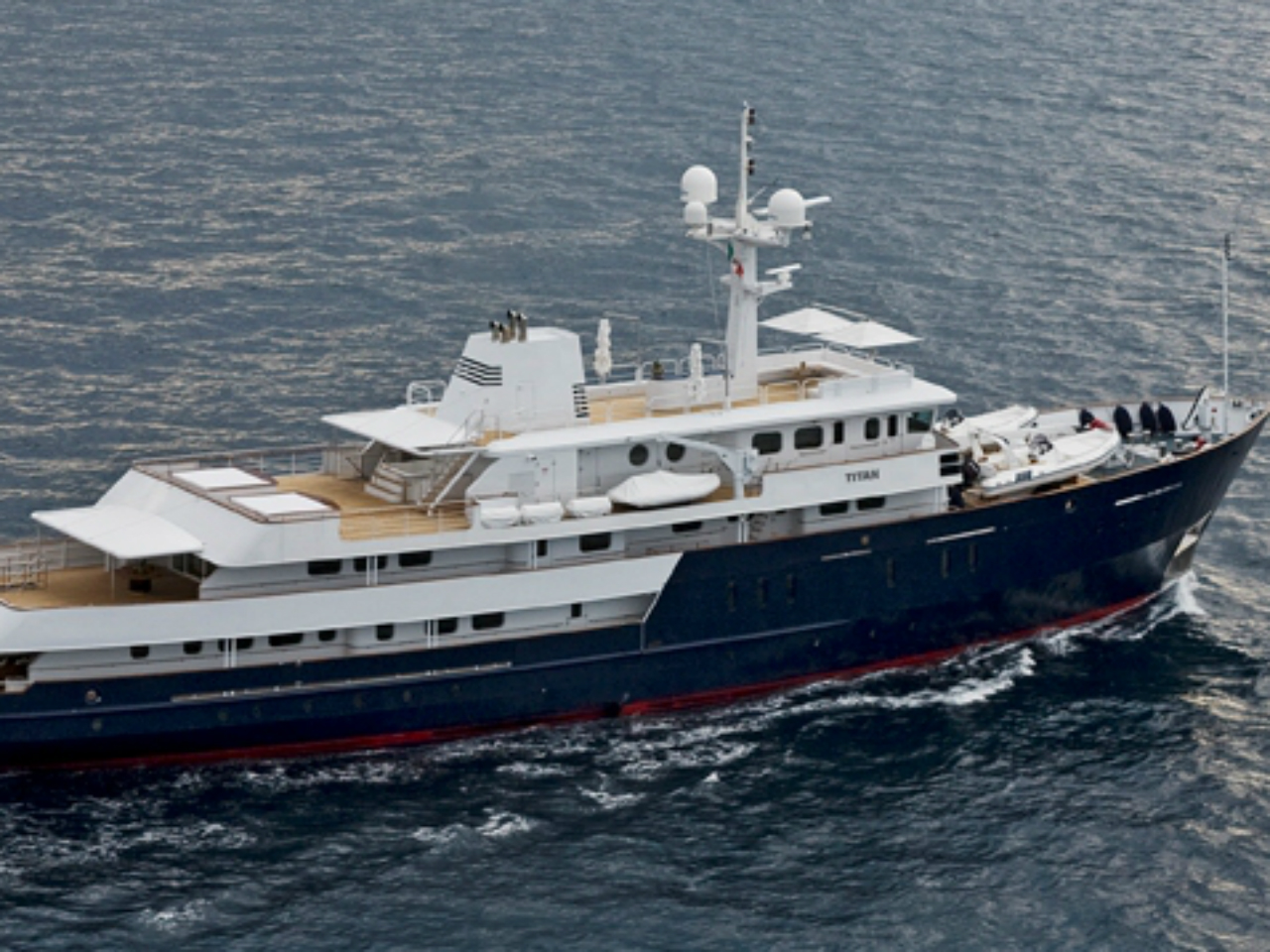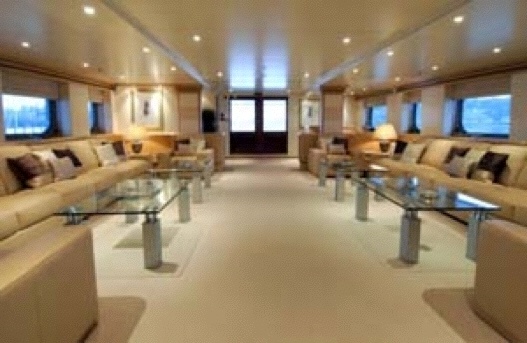 Spécifications
Chantier : Brooke Marine
Année de construction : 1968
Année de rénovation : 2019
Dimensions
Longueur : 60,35 m (197,95 ft)
Largeur : 11,40 m (37,39 ft)
Tirant d'eau : 4,00 m (13,12 ft)
Propulsions
4 x 750 hp
LIPSTER BLACKSTONE
Vitesse de croisière : 10 nœuds
Vitesse maximum : 12 nœuds
Aménagement
Nombre d'invités : 30
Nombre de cabines : 18
Cabines double : 12
Cabines lit jumeaux : 6
Stabilisateurs de croisière : yes
Stabilisateurs à l'ancre : yes
Jacuzzi : yes
Équipement de gym/sport : yes
Nombre d'équipage : 25
Consommation de fuel : 350 l/h
Matériaux de construction : Steel
Contactez-nous
Vous êtes intéressé par ce Yacht ? Notre équipe se tient à votre écoute pour répondre à toutes vos questions !
Vous serez aussi intéressé par