ARIA AMAZON
Longueur : 45,00 m - 32 cabines
Chantier : Custom
Année de construction : 2011
Année de rénovation : 2015
À partir de
241 800 € / semaine
Jusqu'à
278 000 € / semaine
À partir de
254,136$ / semaine
Jusqu'à
292,182$ / semaine
Description
On board ARIA AMAZON's Amazon river cruise guests get to experience the world's most biodiverse land ecosystem in the most intriguing and rewarding way alongside top naturalist guides. An intimate experience with wildlife, nature, and culture though group excursions that transform an Amazon cruise adventure into a deeply personal experience.

Cruising the Amazon river and rainforest ecosystem is like seeing a giant living and breathing creature. The significant ebbing and flooding of the Amazon River and its tributaries between seasons replenish the waters with vital nutrient. The cycle also dictates the rhythm of life for so many species including plants, fish, amphibians, reptiles, mammals and the local people — the ribereños. As for the 'best time to visit' the Amazon, here's two facts explorers need to know:

- As the name suggests, the Amazon rainforest sees rainfall throughout the year regardless of month or season.
- The Amazon experiences microclimates.This means that rain can occur in a particular localised area while other areas remain sunny.
- There will be spectacular Amazon wildlife, birds and plant life at any time of year, including see the Amazon's rare pink river dolphins.

HIGH VS LOW WATER SEASONS
There are two key seasons in the Peruvian Amazon: a low water season that lasts from June to November and a high water season from December through to May. Cruising in either season presents explorers with a unique experience of the Amazon as water levels differ as much as 23 feet (7 meters)!

THE LOW WATER SEASON (JUNE to NOVEMBER)
In the low water season, many of the trails and jungle paths that are otherwise submerged in the high water season are easily accessible, allowing explorers more opportunities to experience the Amazon rainforest on foot, which for many is still the preferred way to experience a rainforest. The low water season also typically sees less mosquitoes.

On the other hand, significantly lower water levels also mean that some creeks and lakes (otherwise accessible by skiff during the flooded season) are out of reach by ARIA AMAZON's launch boats.

Itineraries take advantage of the conditions in each season. During the low water months, fishing is ideal as aquatic populations are confined to a few key areas. For example, it's far easier to land a piranha! For birdwatchers, dozens of species of migratory birds are in flight in the Peruvian Amazon during the low water months.

When cruising the Amazon during low water, guests will also see the amazing imprints of the high water season. Water marks are apparent on trees and the exposed mud banks, especially at ribereños villages. Locals carve mud stairs into these very steep river banks in order to get from the river to their village!

Regardless of low or high water seasons, exposed mud banks also tend to attract large numbers of colorful macaws, who feed on clay to neutralize these toxins from the food they ingest in the forest.

THE HIGH WATER SEASON (DECEMBER through to MAY)
For visitors to the Peruvian Amazon at this time of the year, the key highlight is the dramatic high water panorama of the flooded forest. The Amazon Basin's rivers and streams rise about 23 feet (7 meters) higher than during the low water season.

Aside from the stunning visual effect, this also means that every river, creek and lake is navigable. Aqua Expeditions launch boats take advantage of this and cruise further on the wildlife-rich waterways of Amazonia, bringing our guests closer to the jungle tree canopy while having less trekking on foot to do. Exploring a rainforest mainly on water is also a unique experience.

During the high water season, the reduced area of dry land could also mean more concentrated sightings of certain wildlife and birdlife. Certain aquatic creatures such as turtles and caimans, species that need to get some sun every day, are often easily spotted during the high water months.

In the meantime, with skiffs sailing nearer to the tree canopies, the Peruvian Amazon's kaleidoscope of endemic monkeys and bird species are nearer to the naked eye. That said, most species can be spotted throughout the year, the only difference is in the manner they're seen, from the ground of the lush forest or aboard a skiff. Both are uniquely enchanting in their own right.

On the flip side, the high water season sees mosquitoes becoming more prevalent, especially on jungle trails. Fishing requires more patience during these months too, locals only manage to catch about half the fish they would otherwise get in the low season.

**Detailed Itinerary Available on Request

Winter 2019/2020 High Rate: 278,000 USD per week (Terms: ALL INC)
Winter 2019/2020 Low Rate: 241,800 USD per week (Terms: ALL INC)
Summer 2020 High Rate: 278,000 USD per week (Terms: ALL INC)
Summer 2020 Low Rate: 241,800 USD per week (Terms: ALL INC)
Winter 2020/2021 High Rate: 278,000 USD per week (Terms: ALL INC)
Winter 2020/2021 Low Rate: 241,800 USD per week (Terms: ALL INC)
Summer 2021 High Rate: 278,000 USD per week (Terms: ALL INC)
Summer 2021 Low Rate: 241,800 USD per week (Terms: ALL INC)
Rate Details:
7 Night Itinerary 278,000* / 241,800** USD
4 Night Itinerary 159,000* / 137,600** USD
3 Night Itinerary 119,000* / 103,200** USD

*High season valid for departures from 03 January - 31 July
**Low season vaild for departures from 03 August - 28 December

An APA of 10-30% to cover any necessaries is required.

The all incl. charter rate includes:
- All meals on board
- Beverages (non-alcoholic, "house" wines, and beer)
- All shore excursions and bicycle use
- Pacaya Samiria entrance fee
- Laundry
- Internet (where available)
- Group transfers
- Fuel

The all incl. charter does not include:
- All air tickets
- Private transfers
- VISAs
- Boutique purchases and souvenirs
- Spa services
- Premium spirits, wines, and cocktails
- Guide and crew gratuity
Pacaya Samiria entrance fee

If you wish to charter ARIA AMAZON please get in touch with your CSO Yachts broker. Alternatively, please send an email to info@csoyachts.com and one of our brokers will be in touch to assist with your enquiry.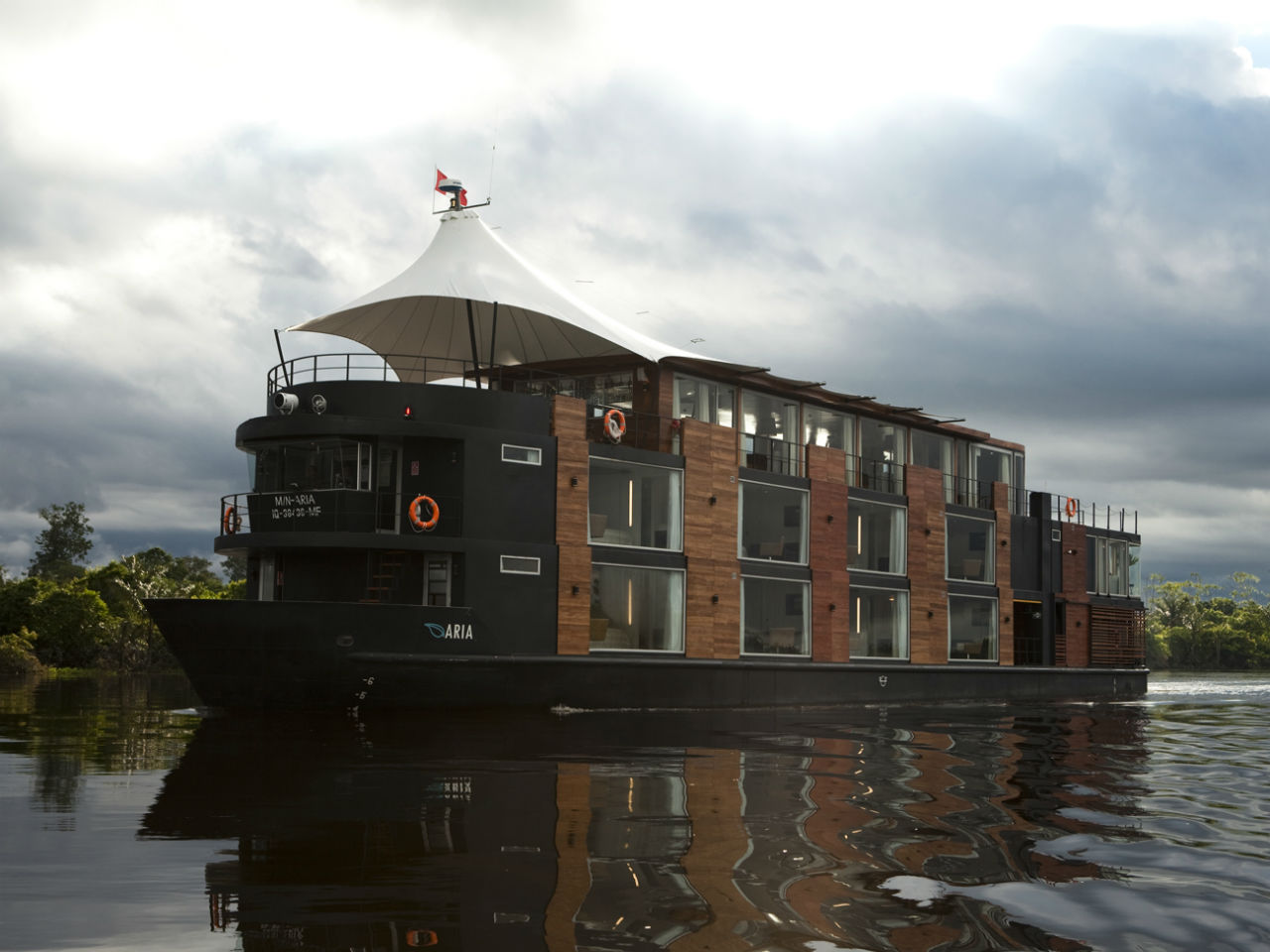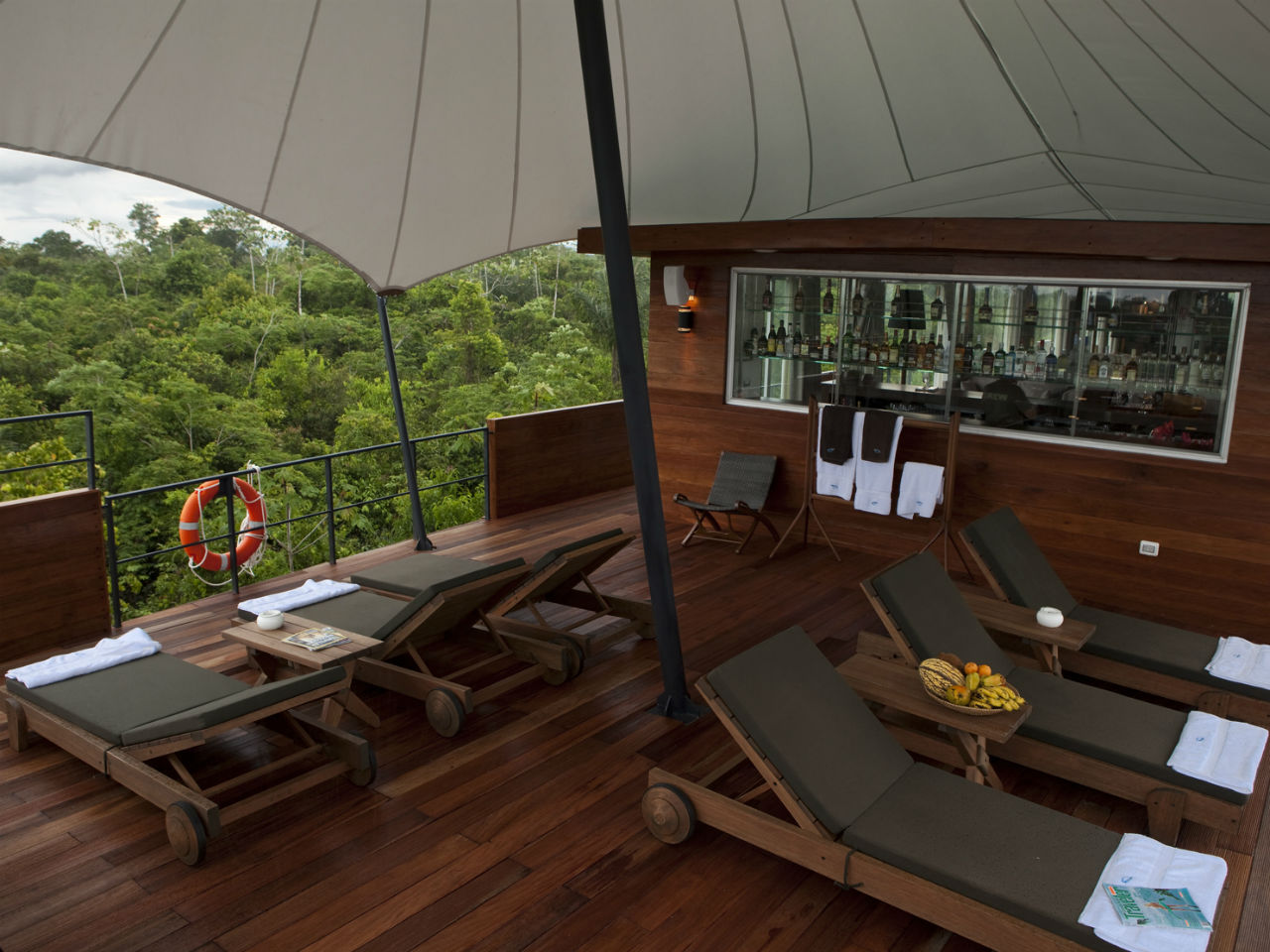 Spécifications
Chantier : Custom
Année de construction : 2011
Année de rénovation : 2015
Dimensions
Longueur : 45,00 m (147,60 ft)
Largeur : 9,00 m (29,52 ft)
Tirant d'eau : 1,50 m (4,92 ft)
Propulsions
2 x 400 hp
CUMMINS
Vitesse de croisière : 12 nœuds
Vitesse maximum : -
Aménagement
Nombre d'invités : 32
Nombre de cabines : 32
Cabines double : 16
Cabines lit jumeaux : 16
Stabilisateurs de croisière : no
Stabilisateurs à l'ancre : no
Jacuzzi : yes
Équipement de gym/sport : yes
Nombre d'équipage : 27
Consommation de fuel : -
Matériaux de construction : -
Contactez-nous
Vous êtes intéressé par ce Yacht ? Notre équipe se tient à votre écoute pour répondre à toutes vos questions !
Vous serez aussi intéressé par