NAIA
Length: 73.60m - 8 cabins
Shipyard: -
Built year: 2011
Refit year: -
from
595 000 € / week
to
635 000 € / week
from
698,492$ / week
to
745,449$ / week
Description
Mega Yacht NAIA (ex-Pegaso) offers an impressive 880m2 of accommodation, divided into four decks. Apart from the Owner's quarters, which span an entire "penthouse" private deck with fore and aft terraces, offices and 360° panoramic views, five of the guest staterooms (one VIP Suite, four doubles/twin convertable suite) are on the main deck, fore of the deck's central lobby. This lobby is situated around the central spiralling staircase which connects all decks. The Owner's deck can also be reached by use of an elevator, leading from the sun deck below.

Guest living areas and accommodations are situated on the main and upper decks. The guest staterooms have been fitted with luxurious en-suites and are designed in the familiarly welcoming style also found in the upper deck salon. Being located on the main deck, views from all cabins are simply outstanding. Combining wood, bamboo and natural stone, all in a balanced warm colour palette, in a design that is minimal with ample amounts of detailing, texture and smart design elements. The staterooms and en-suite bathrooms are light, spacious and perfectly private. Using details of stainless steel and wide mirrors in the bathrooms enhances a sense of cleanliness and space, a perfect ambiance for daily rituals.

The aft section of the bridge deck houses mega yacht NAIA's (ex-Pegaso) large interior lounge and dining rooms, with additional casual seating and bar areas. The former also functions as a fully equipped cinema. Mark Berryman's interior design feels both extravagantly luxurious and soothingly calm.
The main sitting area, a large U-shaped setup of light modern sofas around a set of large contemporary minimal table pieces, is inviting and intimate. The flooring is an absolute eye-catcher, consisting of wide strips of chocolate-coloured leather braided together to form an intricately patterned yet modern carpeting. The colour palette is based on soothing dark browns of leather and light beige-brown tints of the woods and natural stone used for floors, wall panelling, ceilings and cabinets. The whole room is bound together into an atmosphere of contemporary hospitality. The saloon's main dining table is a friendly setting of a round central table with plush, modern dining chairs dividing this space from the lounging area by a set of low cabinets, creating a separate room yet leaving the luxurious sense of space intact.
The dining setting being situated starboard, leaves the port side for a second, smaller sitting area with a small bar. With the added artworks, both paining and sculptural, the character of the saloon feels like very well balanced but also pleasantly eclectic, like a collection of materials, furnishing and collectibles that have been gathered throughout the world yet blend remarkably well together with regards to shape and colour.

A large al fresco dining area on the aft deck features a buffet, casual lounging arrangement and an additional bar.

The sun deck is an epitome of spacious luxury, with fore and aft sundecks. The aft sundeck, which doubles as the vessel's helicopter pad, is a lush full beam area with plenty of space for loose furniture and sun loungers. Inside a 54m2 fully equipped gym can be found, including panoramic views and a Jacuzzi for 8 people.

Summer cruising destinations:
Croatia / Greece / turkey
French Riviera / Corsica / Sardinia
Naples / Sicily
Spain / Balearic Islands

Winter cruising destinations:
Caribbean: Leeward / Windward/ Virgin Islands

If you wish to charter motor yacht NAIA, please get in touch with your CSO Yachts broker. Alternatively, please send an email to info@csoyachts.com and one of our brokers will be in touch to assist with your enquiry.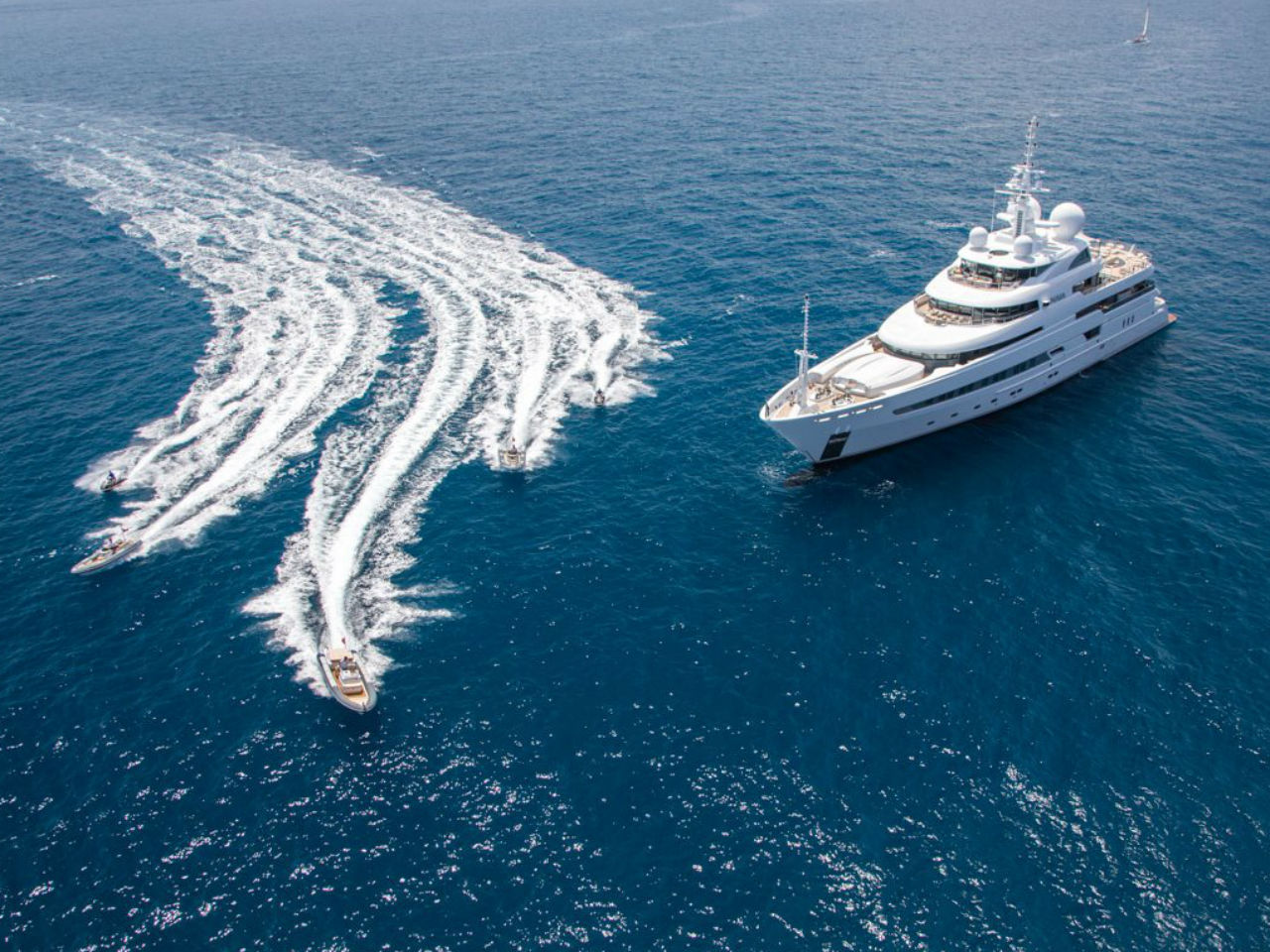 Specifications
Shipyard: -
Built year: 2011
Renovation year: -
Dimensions
Length: 73.60m (241.41ft)
Beam: 13.20m (43.30ft)
Draft: 4.50m (14.76ft)
Propulsion
2 x 2350 hp
Caterpillar 3516c
Cruising Speed: 13 knots
Maximum Speed: 15 knots
Accommodation
Number of Guests: 12
Number of cabins: 8
Double cabins: 3
Twin bed cabins: 4
Stabilisers underway: yes
Stabilisers at anchor: yes
Jacuzzi: yes
Gym/sport equipment: yes
Number of crew: 22
Fuel consumption: 800 l/h
Building materials: Steel
Contact us
Are you interested in this Yacht? Our team is at your disposal to answer all your questions!
You may also be interested in